Japan's Otaru Manufacturing Co., Ltd. has developed a new yellow fluorescent material "Cl_MS phosphor" for LED lighting. The material was jointly developed by the company with the research team of Professor of the Tokyo Institute of Technology, Hideo Hideo, and the research team of Nagoya University professor Zebo. 1). Although the specific mass production time has not been announced, "the mass production technology of fluorescent materials has been established, and it is planned to negotiate with LED manufacturers and lighting manufacturers" (Deputy director of the company, technical director, responsible for system commodity planning room intellectual property rights) Yokoya Hiroshi of the Ministry of Research).

Note 1) The University of Tokyo is responsible for the discovery of the principle of luminescence, and Nagoya University is responsible for the analysis of crystal structures.
The Cl_MS phosphor was prepared by adding an activator Eu2+ (é"•) responsible for luminescence to the mother crystal of (Ca1-x, Srx)7(SiO3)6Cl2 (Fig. 1). This material is characterized by the ability to convert purple light into yellow light with a quantum efficiency of 94%; less blue light is absorbed during excitation; a wide spectrum of spectra can be obtained when illuminated, so color performance is high. Compared with the existing products, the white LEDs using the developed products "can not only obtain soft light suitable for indoor lighting, but also reduce manufacturing costs" (Kobe of Otaru Manufacturing Co., Ltd.).

Has five advantages
Using a Cl_MS phosphor, a blue phosphor, and a purple LED chip , Otaru has developed a hemispherical white LED with a diameter of up to 10 mm (Table 1). Compared with the existing white LED structure of 2 to 3 mm square and having a thickness of about 0.5 mm, the volume is 50 times or more. "The thicker Cl_MS phosphors and blue phosphor particles were coated at a low concentration of 1/10 to 1/20" (Dai Changfang, director of the Institute of Otaru Research Institute).

Hemispherical white LEDs using Cl_MS phosphors have five major advantages over existing white LEDs. The first advantage is high luminous flux and high brightness. According to Otaru Manufacturing Co., because the phosphor particles are coated at a low concentration, light blocking and scattering between the particles can be suppressed, and the luminous flux is increased by 25%. The second advantage is that the brightness in the front direction is low, which can reduce the glare that is characteristic of white LEDs. The reason is that, compared with the white LED originally combined with the blue LED chip and the yellow phosphor (YAG), when the luminous flux is the same, the light-emitting area is increased by 10 times or more, and the luminance is reduced to 1/10 or less.
The third advantage is that since only the yellow and blue phosphors are used to obtain white light, there is no directivity, and although a semi-spherical structure with a diameter of 10 mm is used, uniform white light can still be obtained (Fig. 2). . According to Otaru Manufacturing Co., it is difficult to use a large-sized hemisphere like a development product, in combination with a white LED with a blue LED chip and a yellow phosphor, and a white LED using a combination of a purple LED chip and a red, blue, and green phosphor. Structure. The former has a strong directness due to the light of the blue LED chip, and the surrounding portion will yellow, while the latter is absorbed by the red fluorescent material due to blue light and green light, and the surrounding portion will be red.

The fourth advantage is that the illumination range is larger than the original due to the hemispherical configuration with a diameter of 10 mm. When applied to LED lighting, it can brightly illuminate the entire room. The fifth advantage is the high degree of freedom of shape. Because there is no directivity, it can be made into a hemisphere or a cone.
Fire resistant Control Cable, a kind of high quality fire resisting performance cable with special formula adding for its protective insulation and jacket such as PTFE ,mica tape or fiberglass yarn.. What makes this cable different from flame retardant cable is that fire resist cable will still keep electrical power on for a certain range of time in case of short circuits or combustion when fire happens. This cable should be used in public places to get a better safety and rescue capability.
Product Features
Long-term working temperature: -40℃ to 200℃
Rated voltage: 600/1000V
Conductor: Copper
Fire resistant material use: fiberglass yarn, mica tape, PTFE
Shielding material use: Tinned copper for screen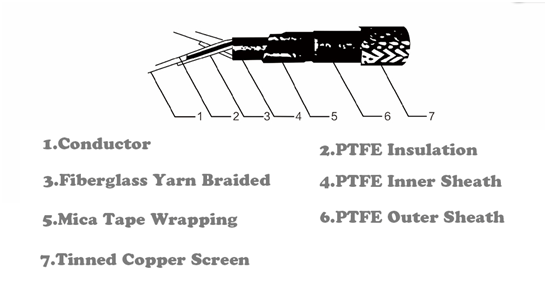 Application
This cable is applicable for below occasions with high fire resistant requirement:
Large-scale construction ,high-rise building
Petrochemical industry, power plants
Subway station, railway station, airport
Hospital, large library, military facilities
Underground shopping mall etc.
FAQ
Q: Are you a factory or trading company?
A : We are a manufacturer. We are professional in developing and producing electrical wires and cables since 2001.
Q: Can I visit your factory?
A :Yes! You are welcome to visit our factory for further detail check.
Our factory is located in Minqing,Fujian. You could choose to fly to Xiamen/Fuzhou International airport. And tell us your flight No. We will arrange to pick you up if you like.
Q: May I buy samples from you?
A: Yes! You are welcome to place sample order to test our superior quality and services.
Q: Can you put my brand name (logo) on these products?
A: Yes! Our factory accepts to print your logo on the products.
Q: May I know the status of my order?
A: Yes .The order information and photos at different production stage of your order will be sent to you and the information will be updated in time.
To receive a quote, further information or advice, Leen Cable invites you to contact us. And you are also welcome to visit our factory if you would like to get closer to our production line.
Fire Resistant Control Cable,Fireproof Control Cable,Fireproof Sheathed Control Cables,Shielded Fire Resistance Control Cables
Fujian Lien Technology Co.,Ltd , http://www.liencable.com