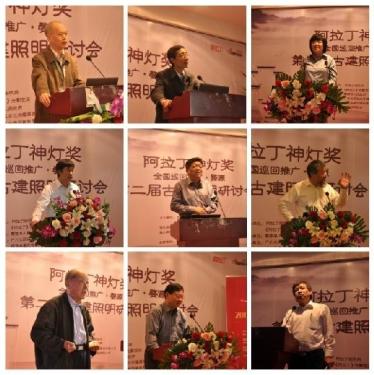 The "Aladdin Prize" awarded by the world's largest lighting exhibition - Guangzhou International Lighting Exhibition has been awarded since October 16, 2012 in Beijing, Shanghai, Guangzhou, Chengdu, Hangzhou, Xiamen, Shenzhen, and Zhongshan. A total of 10 promotional activities were carried out in 10 cities in Foshan, Wuyuan, and other cities. Companies and companies participated in the competition. Experts and scholars participated in numerous discussions and actively recommended. The evaluation activities entered a stage of in full swing.

100 Nomination Committee Reviewers

It is understood that this event is aimed at acknowledging this year's global lighting industry's green, energy-saving, new technology innovation products, outstanding engineering works that combine light technology and art, and outstanding people who are eager for the development of the lighting industry. The event has three categories of annual innovation products, best projects of the year, and annual contributions. There are 10 nominations for each category, and finally one of them is named "Aladdin Prize".
The "10 nominations" for each category will be presented by the China Institute of Illumination, Wang Jinjun, Shanghai Institute of Illumination, Zhang Haijun, Taiwan University of Science and Technology, Xiao Hongqing, Department of Electrical Engineering, Fuzhou University, Zhu Shaolong, Zhao Jianping, China Academy of Building Research, Hangzhou City Administrative Committee, Han Mingqing, Wang Jingchi, Production Department of CCTV Technical Production Center, Wang Youjiang, Outdoor Professional Committee of China Illuminating Engineering Association, Wang Jiyuan, Comprehensive Practical Research Institute of Zhengzhou University, Li Zili, Guangdong Product Quality Supervision, Inspection and Research Institute, and members of the 100 members of the Aladdin Prize nomination committee and their representatives All participating data will be reviewed and voted for.
One hundred cooperative organizations push

It is understood that in addition to the above-mentioned strong expert lineup review, support from authoritative governments and other relevant agencies has also become a highlight of this selection. According to reports, the selection was awarded by the Ministry of Commerce of the People's Republic of China, the Ministry of Housing and Urban-Rural Development of the People's Republic of China, the Ministry of Industry and Information Technology of the People's Republic of China, the Guangdong Provincial Commission of Economics and Informatization, the Department of Science and Technology of Guangdong Province, and the Guangzhou Economic and Trade Commission. , the Guangzhou Foreign Trade and Economic Cooperation Bureau and other government agencies and the China Academy of Building Research Institute of Construction Environment and Energy Conservation, the National Construction Engineering Quality Supervision and Inspection Center, the lighting associations and major universities and colleges and electric light source institutes and other nearly 50 cooperative agencies Strong support.
According to reports, in addition to the Aladdin Lighting Network and the lighting engineering cross-border magazine Aladdin, which was the first portal of the lighting industry, the selection and promotion area was opened, and a series of reports on the selection and a column introduction and publicity to the winners were obtained. China Economic Net, "Economics" Magazine, "China Building Materials News", "Design", Tencent Home Furnishings, Phoenix Home Furnishings, Sohu Home Furnishings, Sina Home Furnishings, Netease Home Furnishings, Qianlong Nets, Love Housing Nets, and Industries Nearly 50 media such as the mainstream media have paid attention and support.
Winning gold trophy

According to the person in charge of the organizer, the selection will be closed on April 15, 2013, and the award ceremony will be held on the same day with the "Guangzhou International Lighting Exhibition & Asia LED Exhibition" on June 9th. The winners of the nomination awards will be awarded the award certificate. Each winner of the award will receive a generous bonus package, which includes a pure gold trophy and a 300,000 yuan promotion fund.
Since the development of China's lighting industry, the strength of every individual can not be underestimated. Even if it is only a concept of thinking, they will eventually benefit the industry and look forward to this "Aladdin Prize" through Aladdin lighting network, combined with Guangzhou International Lighting Exhibition Accumulate 18 years of resources to achieve the industry's annual gathering of the elite, issued the strongest development of the casting lighting industry.
Hengstar professional CCTV monitors are designed for professional surveillance systems. The monitors have multi signal input options, and using BNC connectors, which can support long distance signal transmission. Its controller boards have functions of: low EMI, 3D filter and 3D noise reduction and professional Mstar ACE-3 image/color processing and, ensuring the monitors have a perfect image. We have different board solutions for various input needs, and monitors of small size(10.4'') to big size(65'') for option. Our monitors support wall mount and desktop solutions, other mounting solutions are customizable according to customer's requirements. This professional CCTV monitors have been widely applied to control centers, stations, banks, medical diagnose and other site monitoring fields.
Cctv Monitor,Cctv Monitor Screen,Cctv Camera Monitor,Small Cctv Monitor
Shenzhen Hengstar Technology Co., Ltd. , https://www.angeltondal.com