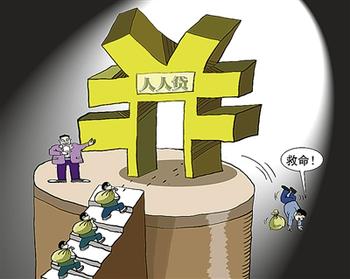 Earnings as high as 10% to 30%, but frequent risk events

In general, the profits that P2P provides to investors are at least 10% annualized, and the interest rates offered by some new platforms to investors even reach 30%.
"Abandon the bank, everyone has a better deal," this is the slogan of the UK's online lending platform zopa. In fact, the Internet+ platform for providing basic credit information is sufficient to facilitate a financial transaction. At present, the domestic P2P online loan industry does exactly that.
Revenue 10% to 30%

This is simply an alarming news. The Internet in Unicom's world naturally has the attributes of an exchange. It can make information more transparent and facilitate transactions more quickly. Probably, bypassing the banking system will bring certain legal risks to all current P2P platforms. However, they do make borrowing faster and allow lenders to no longer tolerate low bank deposit rates.
P2P online lending is an investment-oriented investor who borrows funds from a borrower who needs funds through an online lending platform. P2P companies, on the other hand, are online loan platforms that engage in personal to personal intermediary services. In fact, P2P is very different from the traditional asset management platform. It is not a simple financial management for generations, but a platform for the exchange of lending information. However, given that many people do invest in P2P and P2P grows faster than people think, we also put P2P in the asset management platform.
In general, the profits that P2P provides to investors are at least 10% annualized, and the interest rates offered by some new platforms to investors even reach 30%. In general, just as "risks increase the greater the risk," the stronger the platform's bargaining power, the lower the interest paid to investors.
Let's take a look at the growth of P2P in China. The Pat Loan, established in 2007, is the earliest domestic P2P online loan company. Between 2007 and 2009, there were not many domestic online loan platforms. Hongling Venture Capital was a well-known online loan platform established during the period. In 2010, the number of online loan platforms began to increase, with more well-known loans, E-speed loans, Easy Loans 365, and Shengrong Online. In 2011, China's online loan industry entered a period of rapid development with the launch of a number of new platforms such as 808 Credit, Micro-loan, China Fortune Investment, and Sohu.com. In 2012, it was an outbreak of online loan platform. During this period, hundreds of small-scale online loan platforms were established, and more and more people began to try to invest in online loans.
According to the online loan home survey questionnaire, the domestic online loan investor group is mainly the post-70s and the post-80s as the main investor population, with the majority of males. The industry statistics are dominated by Internet, finance and government personnel, and the investment amount is mainly concentrated on 1. Between 10,000 and 500,000, of which 100,000 to 200,000 are mostly. It can be determined that online loan investors are investors who can tolerate certain risks, have relatively open ideas, are relatively aggressive in investment, and have a certain economic basis.
In 2012, with the continuous emergence of new platforms and the increasing activity of various platforms, a number of investors, mainly investment investors, have been born, including many large investors. Such investors either invest alone, or invest in groups, and walk among various new platforms, speculation, fast-forward and fast-out.
Frequent risk events in 2012

On the surface, the investment income of the online loan platform is high, at least more than 10%; and because of the nature of the loan, its risk seems to be more controllable; the threshold is low, because the amount of bid is not limited, even if it is 100 yuan can invest.
However, like any type of lending, it is always possible to cover up and delay the risks that are happening when the loan is returned to the old. Once the risk has accumulated, the consequence will be tragic.
In 2012, you can make a note of the history of online lending. There have been several risky events on several platforms. The current online loan run events include Bell Ventures, Angels, Gold Rush, Credit Grants, Ant Loans, Public Loans, and the recent U-League loans. The commonly used mode of online loans is: net loan platforms take away deposit funds or online loan platform disguised as lenders borrow money to run after money, and investors chase for high returns make online loan fraud can become organic Multiply.
This again warned investors that the risk of principal loss should not be underestimated for borrowing. It is very important to choose carefully the online loan platform you invest in.
In 2012, the first online loan platform auction loan has been invested by the famous venture capital Sequoia Capital. And some large-scale VCs are also trying to find opportunities in the area of ​​online lending. The general view of online loans is that the combination of lending and the Internet will form a very promising model of Internet finance. Pat Loans has been flaunting itself as a financial treasurer.
However, this industry still faces policy uncertainty. Wu Xiaoling, deputy chairman of the National People's Congress Finance Committee, once said that some P2P Internet lending platforms operate with the shadow of illegal fundraising and must guard against risks.
19Mm Metal Switches, also known as Metal Push Button Switch in harsh working environment. The most competitive advantage of this Metal Switches is that it is high mechanical life, in which momentary could reach 1,000,000 cycles and self lock is 500,000 cycles. Stainless steel is resistant to damage IK10, it is very hard and reliable. Therefore, this series of metal switch is widely used in automobiles, ships, medical and large mechanical equipment.
In order to ensure the trust of our customers, this series Push On Push Off Switch has passed UL testing and certification, IP67 dust-proof and waterproof certification, TUV, European and American environmental protection RoHS and lead-free environmental protection certification .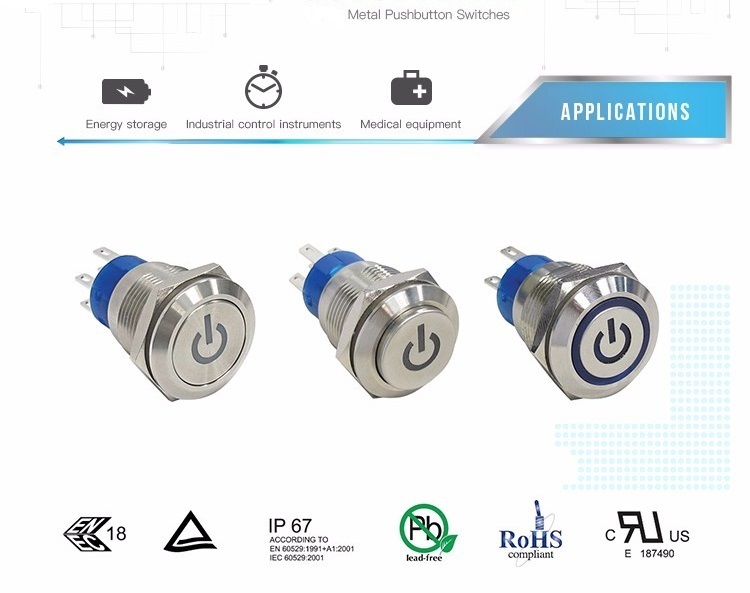 Our 19mm Waterproof Push Button Switch have a variety of materials, including stainless, brass with nickel plated, brass with chrome plated, AI alloy with black anodized. This serious Push On Push Off Switch could offer different LED Light , including white, red, yellow, green. Customer can select power logo indicator when controlling the power supply, customers could choose the double color indicator light when Switching different function.
Furthermore, all the LED indicate light are provided by well-known LED Lamp manufacturers, guarantying the long-term use of LED lights and high-life mechanical life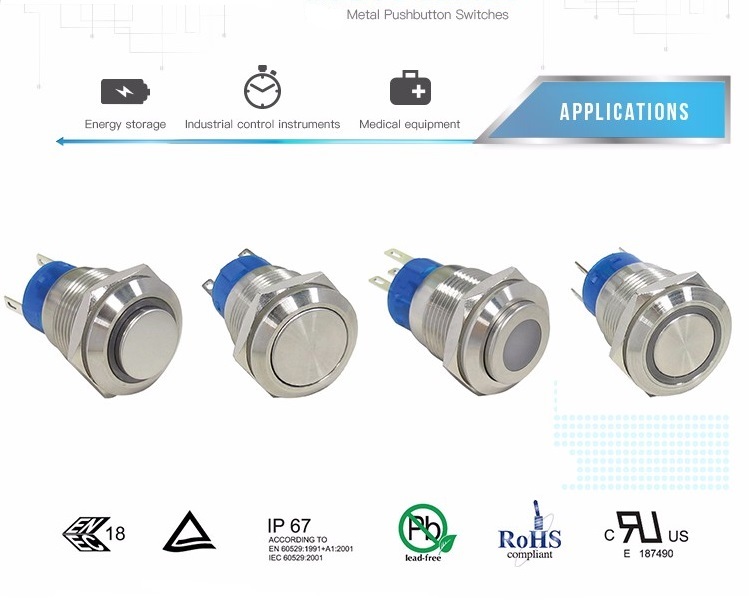 19MM Metal Switches
19Mm Metal Switches,Metal Push Button Light Switch,Metal Ss 19Mm Switch ,Metal Led Light Push Button Switch
YESWITCH ELECTRONICS CO., LTD. , https://www.yeswitches.com