[Zhongshan Station reporter Chen Xiaoqiu]
In recent years, LED panel lights have shown strong vitality in the field of home decoration and commercial lighting, and intelligent lighting has also developed in the lighting market. This time, Zhejiang Mingyang Lighting broke through the technical difficulties, and attended the 2013 High-tech Lighting Exhibition with LED intelligent dimming panel lights.
Mei Ming, Marketing Director of Zhejiang Mingyang Lighting Technology Co., Ltd. (hereinafter referred to as Mingyang Lighting), said that "LED panel lights are our main products, and sales account for 60%-70% of total sales. We have been working hard. Research and development of LED panel lights. The surge in sales of Mingyang Lighting this year is in fact largely due to the active panel light market."
This time, Gaoyang Exhibition brought about 3030, 3060, 6060, 60120 and other panel light series products. The light efficiency of the above products can reach 90lm/w, which means that it is larger than Ra80, no light leakage, uniformity of light emission is more than 0.85, the measured life is 25000 hours, and the light decay is less than 15%. The biggest bright spot is that the new panel light can be remotely controlled by remote control or Android, Apple IOS system mobile tablet (WiFi), remote control switch, and intelligent lighting. "
Meijie said: "We can customize the production according to the specific needs of customers, complete specifications, and our installation methods are diverse. To meet the ceiling installation of various ceiling ceiling structures, to achieve a harmonious and beautiful product and site environment, each The product is available in a variety of (5 or more, some more than 10) installations."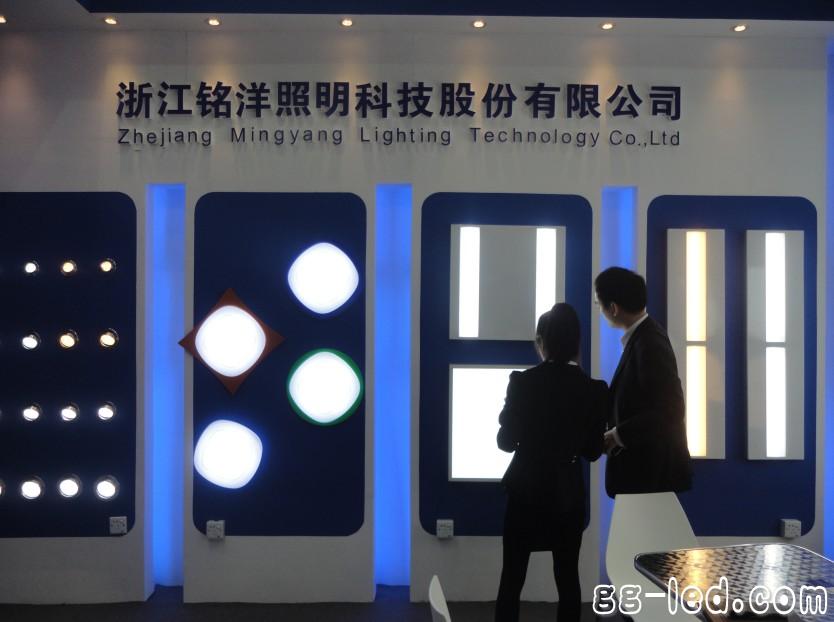 "The sales of Mingyang Lighting have reached 80 million this year, up 50% to 100% year-on-year. In order to better improve the market competitiveness of products, we attach great importance to product innovation and R&D, and will take 10% every year. The budget has increased the replacement of products, and has close exchanges and cooperation with internationally renowned enterprises and universities such as Fudan University in China. The future goal is to enter the largest panel lamp manufacturer in the Yangtze River Delta." Mei Jie told the senior engineer.
For a long time, Mingyang Lighting mainly focuses on export channels, and domestic products only account for 30%. This year, Mingyang Lighting has increased its efforts to "test the water" in the domestic market on the premise of deepening the foreign market, and hired British professional designers to develop a series of intelligent ceiling lamps such as voice-activated induction and radar induction.

Featuring Level VI energy efficiency and meet IEC/EN/UL 62368-1 safety standards, the external AC to DC power adapters are available in variety of international different AC input blade versions for United States, Europe, Korea, U.K. and Australia, and provides 8 safety protections. The 25 to 39 wattage series wall mount power adapters follows the PC flame retardant plastic case and 3 years warranty.
Europe Plug Adapter,230V Ac Adapter,Variable Power Supplies,Power Supply Adapter,Pos Power Adapter
Shenzhenshi Zhenhuan Electronic Co Ltd , https://www.szzhpower.com